Scholarship Application
Prince of Peace Lutheran Church Scholarship Application
---
Wurffel Fund College Aid Available
Financial aid for college students is now available through the Karl, John, Elizabeth Wurffel Memorial Fund. The aid will be provided in the form of student loans. While the amount of funds available is limited, Lutheran students are encouraged to apply. Terms for the loans are very beneficial to the recipients. Eligibility is described as follows:
"Any member of a NJ Synod, ELCA, congregation planning to attend or enrolled in a matriculated program of study in an accredited 4-year or 2-year college or university may apply. Loans are for undergraduate study only.
Priority of consideration is given on the basis of activity in the life of the church as described by the recommendation letter of the applicant's pastor and on the basis of need. Priority is given first to students attending any ELCA Lutheran College or University, and then to any accredited 2-year or 4-year university."
Please contact the church office to obtain the application and letter of recommendation. Applications are also available in the Narthex. Applications must be postmarked no later than June 15,2016.
---
Adult Bible Fellowship
Prince of Peace's Adult Study And PHellowship (ASAPH) will begin another year of study on Wednesday, October 4th! The Fall Semester study will focus on the "Book of Acts." The      studies will be based on the Augsburg Fortress "Book of Faith" program this year.  
Meetings for ASAPH will be held on Wednesdays from 1:00PM until 2:30pm. A $16 donation is asked for each semester to offset the cost of course materials.
The dates of the sessions for the 2017 autumn course are as follows: 10/4 10/11, 10,18, 10/25, 11/1, 11/8, 11/15, 12/6.
Fall Semester – "Book of Acts"
---
Sunday School Teachers Needed! 
Sunday School starts in September.
We are looking for adult leaders to assist with teaching. If you are interested in teaching our Sunday school children please contact Donna Pollock at donna.pollock2@gmail.com, Donna Schaefer or Pastor Holliday.
---
Social Action News – By Evelyn Passante
On September 19th, we fed 140 people at the Hackensack    homeless shelter.  Since 90 people live at the shelter, this means that 50 people came in to get a lovely, free home-cooked meal.  Among the 50 people, we fed 15 children. Their parents are hard-working low wage earners who are having a difficult time in this economy.  Is this the time for our legislators to cut down on the amount of money that they allot for the SNAP (food stamps)       program and other vital safety-net programs for the poor?
On October 15th, POP will be the starting point for our annual CROP walk at 1:30 PM.  All of the money Church World Service collects will be used to help hungry people in the USA and   throughout the world. 20% of the NE Bergen CROP walk money will go to the Center for Food Action and 5% to Family Promise. Please sponsor our walkers.
Please don't forget to bring food or supermarket gift cards for our food barrel.  Help feed our hungry neighbors.
---
Holy cow!  The herd is growing!
So far, we have collected $5,100 for the World Hunger Appeal as    evidenced by the 10 colorful cows on our front lawn. Not only does the WHA give out food, they give out small business loans, help build food pantries, support eye clinics, and do many other good works. So we'll continue to collect money for the WHA throughout the year.  If you have any questions about the above, contact Evelyn Passante at 201-768-0355 or evelynpassante@aol.com.
---
Pictures of Peace
  Campfire Social      
Back to School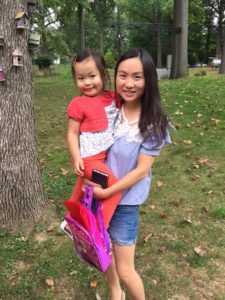 Our Renovated Church Sign – Thanks Chris Dans!