55 Years of Service
In 1955, a New York Post headline proclaimed, "Girl Chemist Finds new Calling: Will Be a Lutheran Deaconess". That chemist is our very own Hertha Fischer!
CLICK HERE to read the story
from the Lutheran Deaconess Association!
---
Stewardship
- By Dr. Andrea DeCapua
Birthday? Anniversary? Another special occasion coming up? In lieu of yet more "stuff," how about asking people to donate to Prince of Peace in your name--A gift that keeps on giving.
---
Adult Study And PHellowship (ASAPH)
Wednesdays, April 30, May 14th, 21st, 28th and 29th from 1:00-2:30pm
"The Revelation to John—Part 2"
This study started in January, but new participants are welcome to join the group as sessions resume in the Spring! Please contact Pastor Holliday or the church office (201-768-8691) if you are new to the group and would like to participate.
---
Easter Lilies and Daffodils
Sign up sheet in the Narthex $13.00 each
Please place order by Sunday, April 6th
---
Do you shop on Amazon.com?
By shopping at Amazon.com through our website link, up to 8% of your purchases will be sent to our Prince of Peace to support our programs!
Please bookmark the Prince of Peace Preschool website below and use it as your Amazon. COM connection!
princeofpeacepreschoolnj.org
Simply click on the Amazon link on the right hand side of our website, sign into your own personal Amazon.com account (if you are not already signed in) and shop as you normally would.  If you do not already have an Amazon. COM account, you will need to create one.
Please Note!
When you use our link to connect to Amazon.com, everything will look exactly the same as if you were going to Amazon on your own. Rest assured that your purchases through our Amazon. COM link will benefit Prince of Peace Preschool. With respect to the issue of privacy, we do not see your name when you make purchases through our website's Amazon. COM link.
Thanks for your support!
---
POPPS Rummage Sale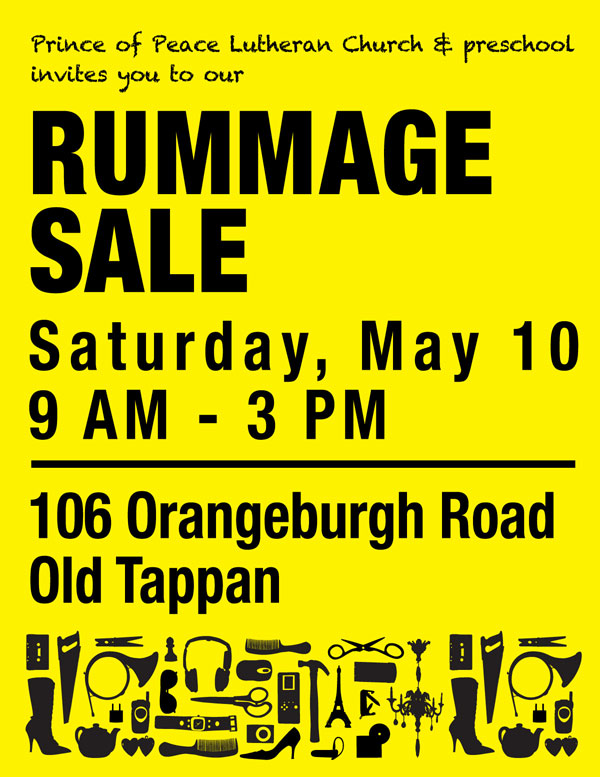 ---
POP Coupon Swap Club
I'd like to start a coupon swap club. We all get coupons in the mail, flyers, newspaper ads. Coupons for products we don't use, or restaurants we may not frequent. It's been awhile since I've needed diaper coupons, but someone else might benefit. Let's start up a POP Coupon Swap Club. I'll start us off by bringing in a small box of coupons we can't use in the Lewis home, from manufacturers, restaurants, etc. come and browse through the box, and drop off some of your own unused coupons. The box will be clearly labeled. This is an exchange, so to get—you've got the give! I will periodically go through the box and cull any that have expired. Let's give this a try, and save a little money to boot.
Thanks!
Mike Lewis
---
Social Action News
-
By Evelyn Passante
Bread for the World is a Christian group that advocates for poor people. On May 4th, we'll have a letter writing campaign advocating for changes to the US food-aid program. Letters can be signed after Church.
On May 11th, there will be a skit during the children's sermon explaining about church World Service's need for blankets. They are only $10 each.
For the Light and Peace School in Haiti, we are collecting new and gently used Lego, Duplos, jump ropes, soccer balls and puzzles for little ones.
We continue to collect supermarket gift cards, men's and ladies socks and underwear, deodorant, toothpaste, shampoo and soap to help our needy neighbors. Any questions about the above, please call Evelyn Passante at 201-768-0355
---
Council Highlights
Lloyd Aanonsen and Evelyn Passsante have volunteered to represent Prince of Peace at the annual Synod Assembly on May 30th and 31st.
The council has approved up to $500 in matching funds from available memorials for Anthony DiMauro's Eagle Scout Project to enhance the playground area of the Preschool.
The Task Force that has been formed between Prince of Peace and Good shepherd Lutheran Church in Pearl river is sponsoring a "Meet and Greet" event for Council members, professional staff and other leaders from both congregations. It will be held on March 29th between 7pm and 9pm at the home of Cathy and Lloyd Aanonsen
---
STEWARDSHIP
It's Stewardship time! That is, it's that time of year when we try to understand and respond to God's expectations of us as stewards and when we reflect on what our church, Prince of Peace, means to us. When we come together at Prince of Peace to hear God's word, to share the sacraments and to worship God with joy and thanksgiving, we are strengthened and blessed. At the same time, we need to examine prayerfully what we can give back to the Lord. Out of love for God, we give, and as we grow in love toward God, so, too, we want to grow in our commitment to our church.
Pledging is an opportunity for us to commit some of our gifts to God. We pledge of our time, of our abilities, and of our money as an expression of our love to God and of our commitment to following His ways.
I would ask all of you to prayerfully consider how you can best share your gifts with God and complete a pledge card and return it to Prince of Peace either via mail or in the collection. Pledge cards are available in the Narthex.
---
Pictures of Peace
Playing the Drum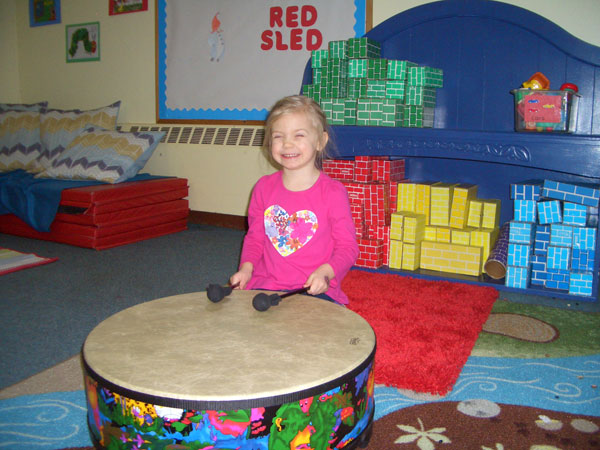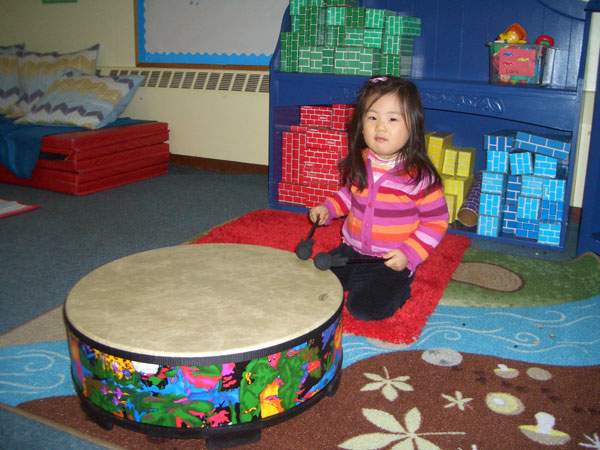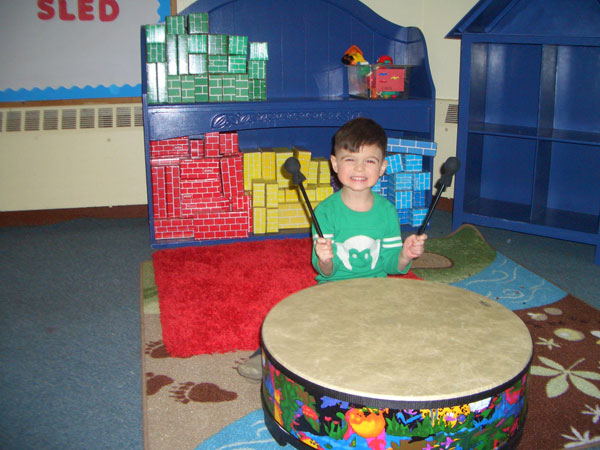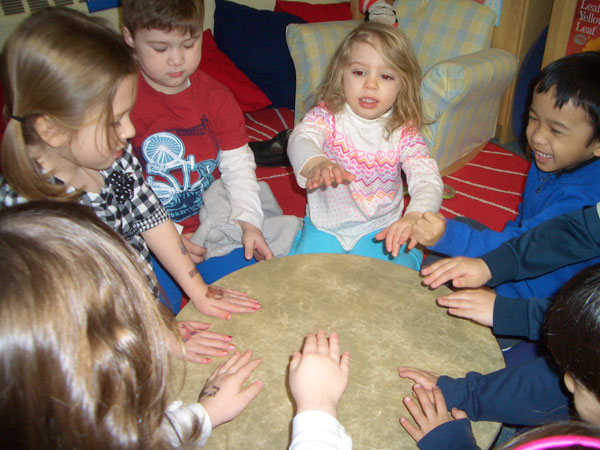 Playmates at Play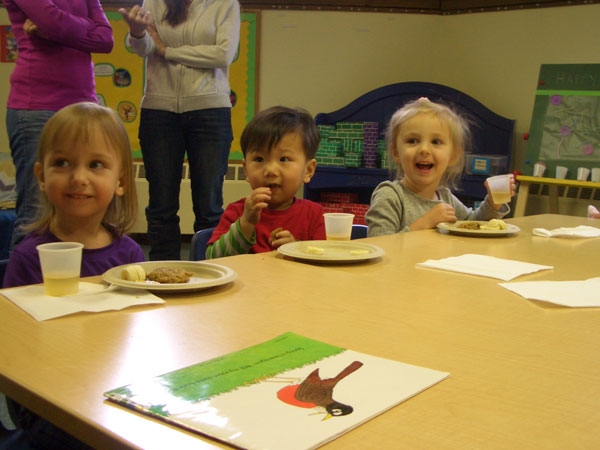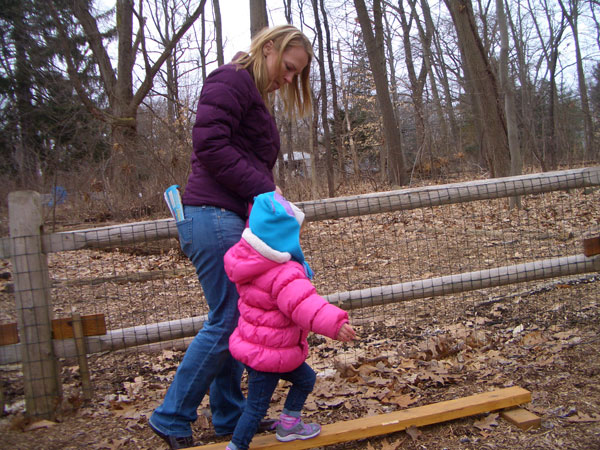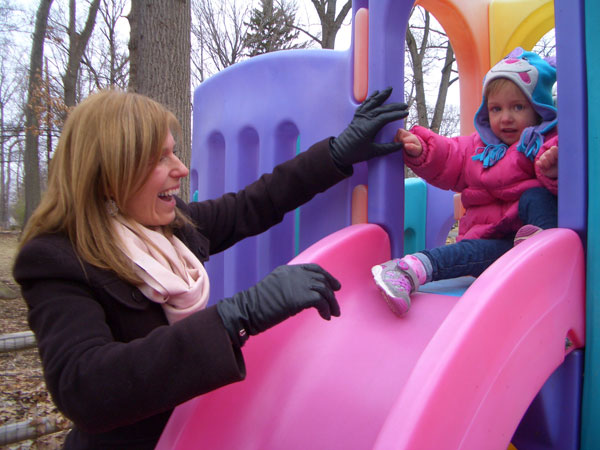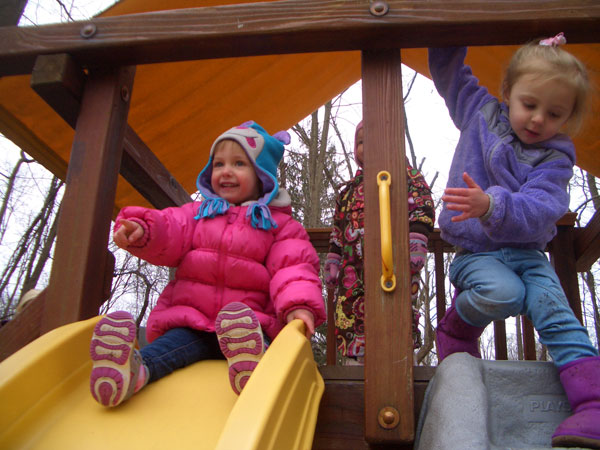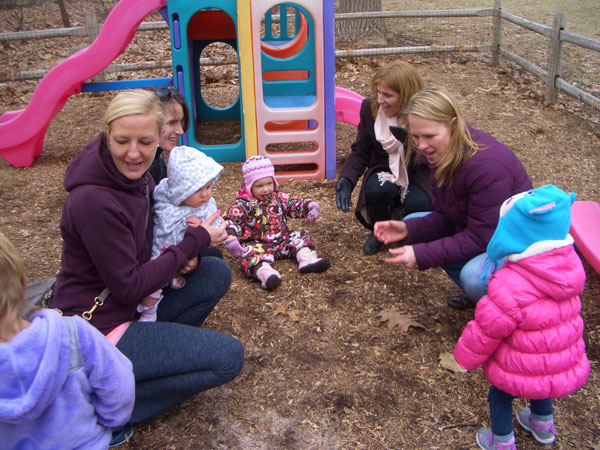 Visit POP on Youtube
---
Learn Sarver Heart Center's Continuous Chest Compression CPR

Every three days, more Americans die from sudden cardiac arrest than the number who died in the 9-11 attacks. You can lessen this recurring loss by learning Continuous Chest Compression CPR, a hands-only CPR method that doubles a person's chance of surviving cardiac arrest. It's easy and does not require mouth-to-mouth contact, making it more likely bystanders will try to help, and it was developed at the University of Arizona College of Medicine.


---
Don't Forget your Church Family
We rejoiced with your family when you were born, a priceless gift from God.


We welcomed you into the Lord's family on the morning in which you were baptized, and we looked forward to seeing your light so shine before others.


We watched you grow and smiled: as you made happy squawks and chatter during worship, sat sort-of quietly during the children's sermon, and attended church school.


You were so excited to receive your first communion, and we happily joined you at the rail.


We celebrated with you on the day you were confirmed and officially joined our team as adult leaders of the congregation, and we looked forward to rolling up our sleeves alongside you and joining us in the work of this congregation.


We haven't seen much of you lately. We miss you. We'll leave a candle lit for you.

Love,

Your Church Family

---
Attention POP Musicians!
Mix It Up With Moses, Jam With Jesus, Or Just Play While You Play... Prince of Peace is still looking for people to join the Band of Peace! If you are interested, please contact Pastor Holliday or Barbara Fitzgerald.


---
Want To Learn To Knit, Or Renew Your Love Of Knitting?
Prayer Shawl Ministry is open to anyone interested in this art --youngsters, teenagers, adults of all ages.

Prayer Shawl Ministry will continue to meet over the summer on Mondays at 10:00 am. You are most welcome to join us for an hour and a half of handwork and fellowship!

For more information contact Doris Baumann at (845)359-5311.

---
Keeping Your Bills Down
The State of New Jersey has several programs to help homeowners with their electric and home heating bills. If you have an income of $18,000 or less you may receive up to $1,800 in aid. For moderate income individuals and even middle income folks aid of up to $1,000 per year is available if you qualify. This program is designed for the winter season. To learn more and determine your eligibility call 1-888-337-3339.

In addition, the State offers a Senior's Property Tax Freeze for those seniors with incomes of $53,000 or less. In a year this amount will increase to $60,000 and in two years to $70,000 and in three years to $80,000. The Senior Freeze has nothing to do with the property tax rebate you receive annually which you will continue to get. To learn more about the Senior Freeze call 1-800-882-6957.

---
STEWARDSHIP
Stewardship at Prince of Peace: What does my church mean to me? This year we are focusing on asking members to reflect upon what Prince of Peace means to them. As we reflect, let us think about how we can use our gifts and talents in the service of our church and our Lord.

One member writes

Paul's letter to the Corinthians (one of those letters – I'm not very good with Chapter and Verse notations) tells us that we each have gifts. The trick is recognizing these gifts in people and then allowing them to use them. We have those who are gifted in business and can tend to the "business" side of church; those gifted in giving who see that our mission work continues; those who are gifted in prayer who watch out for each other -- there are more gifts to talk about - but you get the idea.   POP has the ability to see these people and recognize their gifts and better yet, the vision to support them.

That is not to say that life at POP is perfect. It can't be, it is, after all, filled with sinners and so there will always be room for improvement.  It will always be that some of us are blind to visions and gifts to others, and that some of us will have the wrong vision in mind.  As members of POP we must find ways to continue to support each other and encourage each other even when our ideas conflict. 

Overall, POP is a place to find peace (well, most of the time) encouragement, friendship and so much more. It's a place where opportunities to grow spiritually and explore one's gifts abound.  

 Too often I hear someone saying they "don't get anything out of worship".  Worship is NOT a spectator sport! You "put in" to worship – you don't come expecting to "take out".  When we did the NCD survey and found that "spirituality" was our low point, the immediate reaction was "change worship".  But the NCD program had forewarned against that, pointing out that churches that score low on spirituality will do so regardless of what form their worship takes; the same holds true for those churches that scored high on spirituality.  It isn't about the worship "presentation;" it's about our personal relationship with God. So get to know Him better!  The best way to do that is to read and DISCUSS His Word. Dive in!  If POP doesn't have a Bible Study that works with your schedule, start one that will – talk to Pastor.  He is always eager to talk/teach the Word – as we all should be!

A strong personal relationship to our church is what makes our faith stronger. Please share your thoughts with me and/or the rest of the congregation. Hearing your voices helps us all reflect and realize the many ways the Lord gives us strength, support, and shares His love in our community here at Prince of Peace.

By Dr. Andrea DeCapua
---
Local Heroes Of The Christian Faith
We are looking for leaders in the congregation who would be willing to share stories of their vocations and God's presence in life with our confirmation class and other youth of the congregation. If you are interested, please contact the church office or Pastor Holliday.

Questionnaire

What is your vocation?
How did you arrive at your decision to pursue this activity for your life's work?
How do you prepare to work in this position?
What are some of the things that give you joy in your work?
What are some of the things that are challenging about your work?
How does your Christian faith impact your work? Where do you see God at work in your life?
---
Help Our Soldiers Overseas!

Let's not forget to HELP OUR SOLDIERS. It's hot, dangerous and lonely overseas!

I especially need donations of: instant packets of hot chocolate; individually wrapped pieces of hard candy; beef jerky; packs of gum; chap stick; small snacks, e.g. cookies, crackers, pretzels; moist toilettes (water is at a premium in the desert!) Please leave items in the labeled box in the narthex.

One of the soldiers you have been helping me support with your generous donations and cards asked me to pass this message to our congregation:

"I received all the boxes that you had sent, and of course I shared with my fellow troops. Will you please do me a big favor and thank all the nice people that sent me the encouraging cards, I can't possibly address all of them, but I do appreciate it very much. Tell them that I post everyone of them on my wall in my little tiny room.

We do make a difference and I thank all of you, too.

Contact Andi DeCapua if you have any questions: 201-263-9552 or adecapua@optonline.net

---

Curbing the exodus of Christians from Jerusalem is vital for peace and stability in the Holy Land
Christians represent a natural and stabilizing presence in the Holy Land and with their churches, schools and healthcare facilities provide vital humanitarian services to all the residence. In addition, they often play an unexpected peace keeping role between the Israelis and Palestinians. Unfortunately, do in large part to a lack of affordable housing, the Christian population has dwindled down to approximately 10,000 people or 2% of the population in Jerusalem. Completion of the separation wall will likely further reduce this figure to less than half that. Enabling Christians to continue to live in Jerusalem is crucial to the larger goal of realizing the vision of Jerusalem as a city of peace shared by Jews, Christians, and Muslims and an example of reconciliation for the world.

The Mount of Olives Housing Project (MOHP) will provide 84 affordable housing units for Palestinian Christians in Jerusalem with a spirit of ecumenical and inter-religious openness. While serving only 500 or so Christians, this project is symbolic of a larger international effort committed to peace and stability in the greater Middle East. The major cost of purchasing land for the project is avoided because the Kaiserin Augusta Victoria Foundation and the Lutheran World Federation agreed to dedicate 15 dunums (3.75 acres) of land for it. The total financial requirements for this project will be $8M broken down as follows: US Donations $2M, European Partners $4M and $2M in Financing.

The Evangelical Lutheran Church in America, the Lutheran World Federation and the Evangelical Lutheran Church in Jordan and the Holy Land are sponsoring a Holy Land Summit on the MOHP in October of 2008. The purpose of this summit is to provide participants with an understanding of the issues and challenges faced by Palestinian Christians in Jerusalem and the urgent need for affordable housing. The group will meet with the leaders of the project in Jerusalem and key figures from the Israeli, Palestinian and Muslim communities in Jerusalem and Palestine to talk about the historical and modern day role of Christians in the Holy Land and to gain broad cooperation and support for the MOHP. Participants will experience day trips around the Old City of Jerusalem, around the Mount of Olives and to some of the historic and biblical sites nearby including the Church of the Nativity and Manger Square. They may also add on elements to extend their visit to include travel to Galilee, if their time permits.

If you would like more information about the Mount of Olives Housing Project, and/or the Holy Land Summit, please contact Jim Hooker at jhooker@mtofoliveshousing.org or Susan Hooker at shooker@mtofoliveshousing.org. You may also reach the Hookers by phone at 815.353.5032. You may also support the project by raising awareness of Christians in the Holy Land, by praying for them, or by making a financial gift to the Mount of Olives Housing Project.

Website: www.mtofoliveshousing.org
ELCA Mount of Olives Housing Project
P.O. Box 71764
Chicago, IL 60694-1764
Phone: 1.800.638.3522 x 2970

---
Worship, Music & Art Ministry Focus
What the aims and/or goals of this ministry?
Increase worship attendance.
Make worship more meaningful for all.
Teaching the Christian faith and understanding the meaning of worship

How will it accomplish these in the coming year?
Offer a variety of worship and musical experiences.
Evaluate liturgies for Palm/Passion Sunday.
Integrate with other ministries (Education, Congregational Life and Witness)
Encourage more involvement with participation and planning
Advertise

What opportunities are there for volunteers?

Long term projects (approximate time needed):

Altar guild 2 hr/month
Worship leaders 2 hr/month
Maintain and stock candle supplies 2 hr/month
Choir 2 hr/week
Staple bulletin



Short term projects (approximate time needed):

Special music (solos and musicians)
Lenten Dramas
Decorating for season
Staple bulletin
Make a new banner
Readings for special services


One-time opportunities:

Staple bulletin
Polish brass
Reading for special services



Please Make suggestions to Beth Cochran, Eric Shreck or Peter Burgos

---
Prince of Peace Preschool Site Online!
Special thanks to Arp Laszlo and Joann Kitlas for putting this informational site together! Click the logo below to check it out...


---