We're looking for
your
input to make POP the best it can be!
POP Question
of the Month
What kind of church-sponsored activity would inspire you to invite a friend?
Please email your responses to
popquery@gmail.com
Thank you!

Pastor's Piece:

Pastor's Piece - From John C. Holliday

I love the months of summer! From the longer daylight hours, warmer temperatures and additional opportunities to spend time with the family during school vacation, this period of the year provides many opportunities to enjoy God's gift to us of life on earth. Summer in the church also provides a time to review and reflect on activities during the last academic year, as well as a period to plan and prepare for the fall, winter and spring cycle in the upcoming months. I have found that there is a rhythm and pattern to activities that is truly life giving and life sustaining.

All activity at Prince of Peace during the months of summer is not just quiet review and planning. There is, among other things, the excitement and energy that comes with our annual Vacation Bible School program! During the first week of August again this year we will celebrate our summer tradition of learning about the stories of scripture through music, art and games. It is an inter-generational and extended community activity that represents some of the best aspects of our Prince of Peace congregation. If you have not been a part of this program in the past, please know that we would love to have you participate this year. If you have been a regular participant, I thank you for your past service and hope that you will join in the fun again this year. Much energy is invested in our Vacation Bible School program each year, but I hope that you will agree with me that this is an investment that is truly worth our effort.

In addition to our regular annual fun in Vacation Bible School, a new activity at Prince of Peace this summer will be our first ever "Blueberry Bash" following worship on July 12th! On this day friends from our sister congregation at Good Shepherd Lutheran Church in Pearl River, NY will be joining us for worship followed by some delicious blueberry treats. Studies are showing that blueberries represent one of the healthiest foods that we can consume. I encourage you to mark your calendar and make a special effort to join in this tasty celebration of our partnership in the Gospel with our brothers and sisters from the Metropolitan New York Synod!

Summer can have us traveling to new places and seeing new sights. The additional travel may sometimes make it more difficult to observe the Christian Sabbath and gather with other followers of Jesus in community. I encourage you to make every effort to make the time to hear God's Word and receive God's living presence in Holy Communion. If you are in different areas, visit a local house of worship, and please consider sharing with me or other worship leaders any ideas that you observe that we might be able to incorporate into our worship life here at Prince of Peace. If traditional corporate worship is impossible on a particular week, prayerfully consider other ways that the Holy Spirit might help you to remember the Sabbath and keep it holy. Look for the "God sightings" in the summer places you visit, and consider sharing these moments with your extended family here at Prince of Peace.
May God bless you with many opportunities for rest and refreshment in the coming weeks, and I look forward to hearing about your summer stories of faith in the time ahead!

Two of My Summer "Happy Places"

- Pastor John Holliday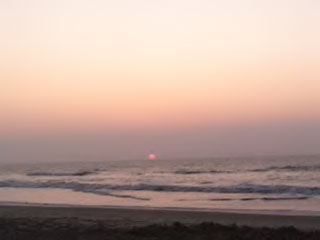 ©2003-2009 Prince of Peace Lutheran Church
Website design by Eric Pseja.