We're looking for
your
input to make POP the best it can be!
POP Question
of the Month
What kind of church-sponsored activity would inspire you to invite a friend?
Please email your responses to
popquery@gmail.com
Thank you!

Pastor's Piece:

Pastor's Piece - From John C. Holliday

January 7th officially ended the Christmas season. On my early morning run that day I noticed several Christmas trees placed by the side of the road and ready to be recycled. The sight of the abandoned Christmas tree has always brought feelings of sadness to me. I mourn the ending of Christmas. For some time I have encouraged folks to observe all 12 days of Christmas, and the visit of the magi that marks the feast of the Epiphany on January 6th. Christmas trees by the side of the road before January 7th leaves me feeling that the season has been shortened. The same cannot be said on January 7th. The season is completed. It is time to move forward.

Along with the dried Christmas trees that I observed on this day, I also was drawn to a large deciduous tree that still held onto its dried, dead leaves. "Marcescence" is the term used to describe this leaf retention, and there are a few reasons proposed by experts regarding why some trees retain their dead leaves. The sight of this tree made me ponder my own longing to sometimes hold onto the past. Are there dead things in my life that I still grasp as if they are current and alive? How can these things be identified and released?

In the Christian liturgical season of Lent, people of faith are given an opportunity to reflect on those things of the past that are dead and hold us back, and to move forward into the promise of a spiritual spring. In the cold of winter it is common for people to long for warmer days. Many people travel at this time of the year to destinations where warm weather can once again be enjoyed. Lent is our liturgical travel into the warmth of Easter. In Lent we visually see the daylight hours lengthening. The signs of spring begin to appear. In this season of promise and new life the church gives us opportunities to more fervently resist sin. We are encouraged to look beyond a longing for the old, and to move forward into the new. We are invited to look beyond ourselves and focus on loving God and neighbor. We are reminded of Jesus Christ who embraced death on the cross so that death would no longer cling to us forever. That which is new and alive in us is awakened, and the springtime of Easter is rekindled in our lives.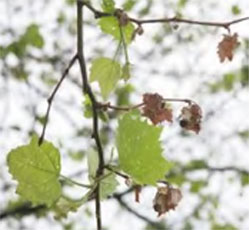 I have read that while it is common for some trees to cling to dead leaves, these leaves do not remain on the branches indefinitely. When springtime returns to the land, new buds on branches finally release whatever dead leaves still cling to a tree from a previous season. Room is made for new life to begin. In Lent the God that we know in Jesus Christ through worship, prayer and the gathering of the faithful around Word and sacrament works to release us from the dead things that still cling to our lives. Let us embrace these opportunities and allow God the space to work in our lives in new ways. A spiritual springtime is truly drawing near!

- Pastor John Holliday

©2003-2009 Prince of Peace Lutheran Church
Website design by Eric Pseja.