We're looking for
your
input to make POP the best it can be!
POP Question
of the Month
What kind of church-sponsored activity would inspire you to invite a friend?
Please email your responses to
popquery@gmail.com
Thank you!
"For by grace you have been saved through faith; and this is
not your own doing, it is the gift of God." - Ephesians 2:8



Come Worship With Us!
Sunday Communion Service - 10:15 AM

Saturday Evening Worship - 5:00PM!!


Ash Wednesday Worship
Prince of Peace, Old Tappan - March 5 at 7:30pm




LENT & EASTER WORSHIP SCHEDULE





Palm Sunday Worship
Sunday, April 13th - 10:15 AM
The central week of the Christian liturgical year begins with cries of praise and the hope of an earthly monarchy that would not be realized. Bring a friend this day to join us on the liturgical journey to the joy of Easter's resurrection. Our confirmation youth will be leading us in the reading of St. Matthew's Passion.

Maundy Thursday Worship
Thursday, April 17th
We will celebrate a shared table ministry with our Presbyterian friends in Norwood on this night when Jesus instituted the sacrament of Holy Communion with His disciples. Please see the Sunday bulletin or contact the church office for the starting time of worship this evening.

Good Friday Worship
Friday, April 18th, 7:30 pm.
We remember the day our Lord suffered and died for us on the cross.


Easter Vigil Worship
Saturday, April 19th, 7:30 pm
The most important worship experience of the church year as the story of God's actions to save humanity through history are remembered. This service features the lighting of the "new fire" of creation and a candlelight service of Holy Communion. Champagne and cake will be served after worship to celebrate our Lord's resurrection!


Easter Sunday Worship
Sunday, April 20th, 8:30 and 11 am
Special Easter flowers, inspirational music, celebration of our Lord's Resurrection and our new birth.
Please note that the 8:30am worship will feature a traditional organ led liturgy. The 11am worship will be led by music provided by the Band of Peace.


Easter Breakfast
Sunday, April 20th, 9:45 am
A time of fellowship and food. Bring something that you would have on Easter morning! An Easter egg hunt will be offered for the Sunday School children!
With an Easter Egg Hunt for the kids!


Please join us and bring a friend to these holiday worship opportunities!


| | | |
| --- | --- | --- |
| | All Sunday Services are followed by a Fair Trade Gourmet Coffee Social Hour, provided through Lutheran World Relief. Please come and join us! | |
The Word on Wednesday Bible Study


Barbara Fitzgerald & Pastor John Holliday will be leading the Bible study at area restaurants and pubs on the first Wednesday of each month . The next session will be Wednesday, February 5th at 8pm at Applebee's in Northvale, NJ . We'll continue our focus on life in the early church with further conversation about
"The Book of Acts"
contact Barbara Fitzgerald or Pastor Holliday if you have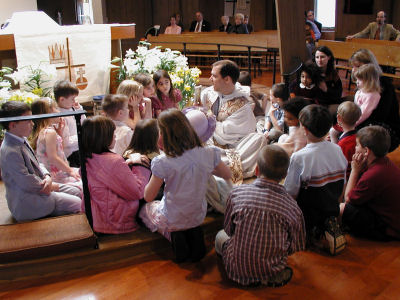 Prince Of Peace Lutheran Church
106 Orangeburgh Road
Old Tappan, NJ 07675



Office Telephone: 201-768-8691
PreSchool Telephone: 201-965-3354
Office FAX Number: 201-768-7064


Our facility is elevator-equipped for those with special needs!
Please use the entrance in the rear of the church.